Hey Cyberbuddy, what's up?
A week ago, Igor became the cover of PICO. Just kidding, but his facial expression says that he definitely likes wearing the headset. 
As promised, we started testing the PICO headset with Cybershoes. So far we can confirm that the games Alvo, In Death: Unchained and Larcenauts work great. More tests will follow. We will keep you updated. 
Do you own a PICO 4 headset? Let us know which games you would like to play. We will then be happy to test them for you. 
Heart-pounding thrills in majestic spacescapes… Concerted mayhem and lawless mischief… Welcome to the Tern system. Choose from 9 different Specialists each with unique weapons and skills to compete in thrilling 6v6 matches. Game modes include territories-style Refuel, capture-the-flag-style Uplink and classic team Deathmatch across 4 different maps. And now an all new payload-style Heist mode featured on the new map—Thunderhead. Advance your characters through a deep progression system and cosmetic upgrades.
Battle through the floating castles of medieval fantasy to restore Harmony in Desolation, Heaven, Purgatory & Hell. Rain down arrows against forsaken souls and angelic creatures that have taken over the afterlife.
The gate-defense game mode "Siege of Heaven" is perfect for new players, casual VR enthusiasts, and advanced players alike. Enjoy VR's highest-rated bow & arrow mechanics.
On this day five years ago, we introduced Cybershoes at AWE Augmented World Expo 2017 in München, where we met AR superstars Ori Inbar and Tom Emrich.
Back then, we had a VR whale logo inspired by the famous Magic Leap trailer video – a whale surprisingly jumps into a gym. 
That video was a pure CG video, wasn't it? 
from left to right
Georg Löffelmann, Michael Bieglmayer, Igor Mitric, Ori Inbar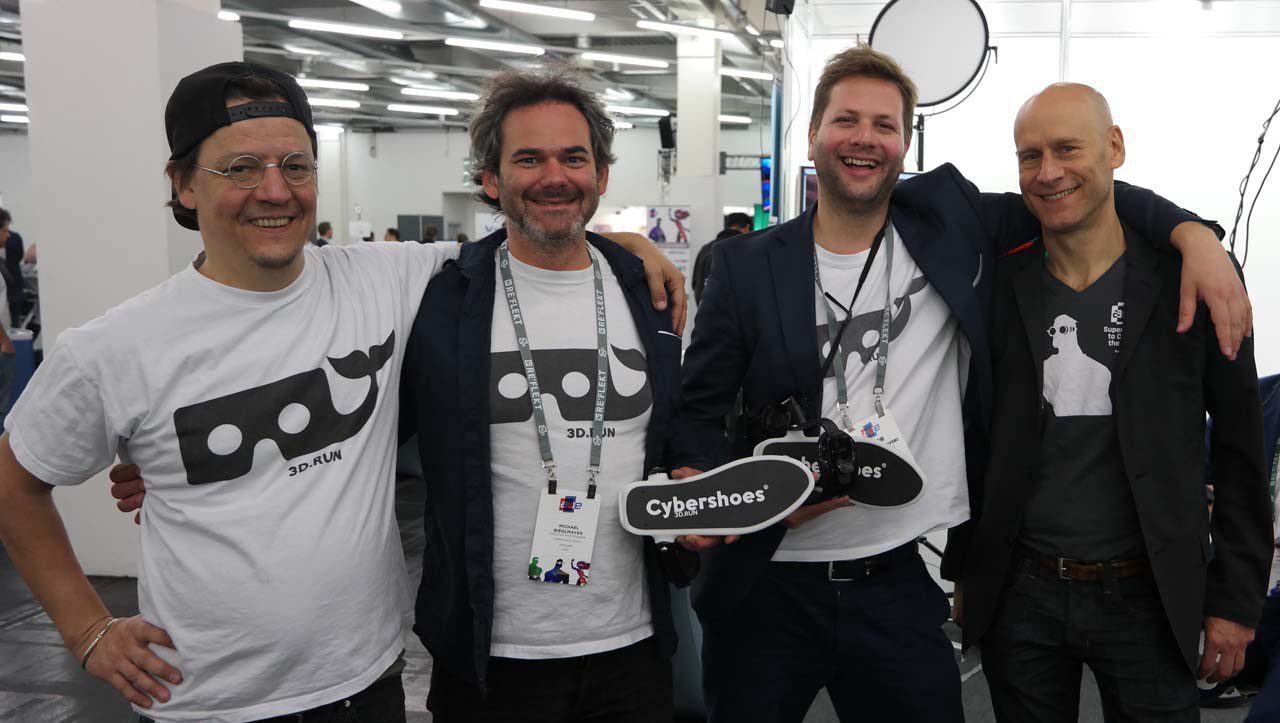 24/7 , Cybershoes CEO at your service
If you want to ask Cybershoes inventor a question, get some help with troubleshooting, share ideas with him, share your love…. whatever – just send him an email. 
mail@cybershoes.com

"Soulmates aren't the ones who make you happiest, no. They're instead the ones who make you feel the most."
– Victoria Erickson