Hey Cyberbuddy, what's up?
I know what you want for Christmas. I really do, so here it is: 
Can you imagine waking up this December 25 with a package under the Christmas tree? So nicely wrapped with a red ribbon, waiting for you since last night. Santa was here, my friend 🙂 
And you're like, "Oh ho hoohoo, what could that be?" You're all excited and expecting a new VR headset, PSVR2, Cybershoes, Pico 4, Meta Quest Pro, something for your daily dose of immersion. 
You tear the red ribbon and open the package…when there is:
Nothing 🙁 
I know, it's not so cool. 
To combat this scenario and fulfill at least one of your dreams, here's a Christmas offer for you!
Cheers, my dear friend.  ♥
Please email us with your order request, as our webshop is currently only available in the USA:
mail@cybershoes.com
Do you know why Cybershoes are the best-selling VR shoes in the US? 
Run in VR like in real life

Compatible with PC-connected VR systems and Oculus Quest/Quest 2 / Pico 4 headsets.

Over 80 compatible Steam games + 15 Quest standalone / see our list
Reduced motion sickness and full freedom of movement

And yes, Cybershoes comes with a Cyberchair, a Cybercarpet, and a receiver for your VR headset. 

It's called the Cybershoes Gaming Station.
How it works: 4 easy steps
As the legs move, the chair is forgotten in no time. What counts is that you're active, and this – sort of – tricks the brain – and motion sickness is reduced, but immersion is increased.  With Cybershoes, you extend the borders of your living room.
Step 1: Turn ON your Cybershoes
Step 2: Strap on your Cybershoes / one size fits all 
Step 3: Connect the receiver to your VR Headset
Step 4: Let's move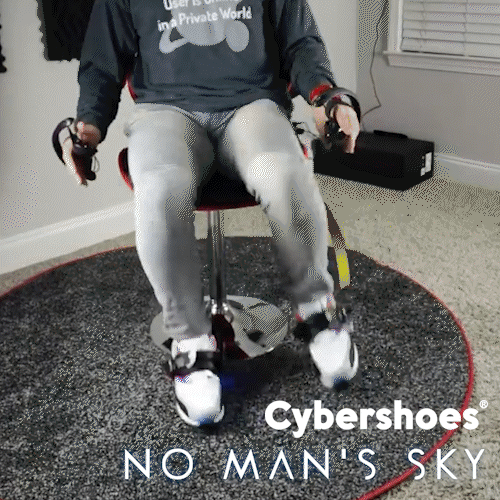 You get complete Cybershoes Gaming Station: 
Pair of Cybershoes (batteries included)

Cyberchair

Cybercarpet

White Receiver

3 USB Cables

User Manual
We created a Cybershoes Tutorial App for you that is now available on Oculus. 
We want to ensure that you will have the best possible experience with your Cybershoes. Therefore, we created the Cybershoes App to help you set up your shoes and master the walking. Moreover, the app will keep you updated about new features and compatible games. 
The new receivers are now also compatible with Oculus Quest. You can order the white receivers from us. Just write us a mail to 
mail@cybershoes.com
24/7 , Cybershoes CEO at your service
If you want to ask Cybershoes inventor a question, get some help with troubleshooting, share ideas with him, share your love…. whatever – just send him an email. 
mail@cybershoes.com

"You can't just drop everything and focus on playing video games for a living"
– Ninja