Welcome to our World Wide Shop
New! Cybershoes LT – Shoes, Chair 2.0, White Quest Receiver
Includes 20% MwSt.
Additional costs (e.g. for customs or taxes) may occur when shipping to non-EU countries.
We conceived Cybershoes Lite to bring the thrill of running in virtual reality to you at an exceptional low price. Use the shoes on your own carpet!
Get Classic Cybershoes
You want the original? OK, then go get the Cybershoes with carpet, chair, and white receiver, now from 249.-
Fits all shoe sizes.
Includes shoes, chair, white receiver.
Compatible with select games on Quest 1,2,3 Standalone,
like Arizona Sunshine, Saints and Sinners, VR Chat.
Compatible with over 70 games on SteamVR
Enhance your virtual reality experience with Cybershoes to:
Increase immersion
Reduce motion sickness
Improve fitness
Supreme quality
Best-Selling VR Shoes in the EU
Ships the next day from our EU warehouse in Estonia.
Free shipping within EU. UPS Expedited service worldwide.
Features
Increased Imersion
Use feet to walk rather than thumbs
Motion Sikness
Alleviate motion sickness by natural movement
Play Area
depending on your height, the recommended free space for playing is 75″ – 90″ (190 – 220 cm)
Fits All Shoe Sizes
Play with your Headset:
Valve Index | Meta Quest 1 & 2 & 3| Meta Quest Pro | Oculus Rift & S | Meta Quest with Virtual Desktop or Link cable | Pimax | all Windows Mixed Reality Headsets | Samsung Odyssey + Acer | WMR Lenovo | WMR Dell | Visor Medion | WMR | HTC Vive Headsets
*PICO Headsets – we are testing different games with it and will announce the results in the DAILY NEWS section. Sign up for our newsletter and be the first to find out about the latest news.  3 GAMES FOR PICO CONFIRMED
How it Works
4 easy steps
As legs move, the chair is forgotten in no time. What counts is that you're active and this – sort of – tricks the brain. With Cybershoes you extend the borders of your living room.
Cyberchair
360° freedom
Comfortable, stable with easy rotation and a modern design that does not make it look weird in your room when not using your cybershoes – is beloved by the VR community.
Cybercarpet – not included
Use your own carpet! Classic Cybershoes come with a carpet to ensure opimal rolling quality. We designed this product, Cybershoes LT, because many people do have carpets and we can save you a lot of money. 
Receiver
White receiver is connector of your Cybershoes to your PC or Standalone Headset.
Peceiver to PC
If you are playing with your gaming PC then plug white receiver to one of your USB slots. Install Cybershoes from SteamVR.
Receiver to Meta Quest
If you are playing with Quest standalone then plug receiver in USB slot. You can always plug receiver on side of your quest. In FAQ section you can find a help with:
Using receiver and extra battery pack
Entering run mode
pressing receiver
In The Box
Pair of Cybershoes (batteries included)
Cyberchair
White Receiver
3 USB Cables (without ac-adapter)
User Manual
Multiplayer
If you want to play with your friends in the same room, now you can. We support up to 5 gaming stations to be played simultaneously in your home or local arcade. For more information and how to set up multiple shoes, read this FAQ section: How To Setup for Multiplayer.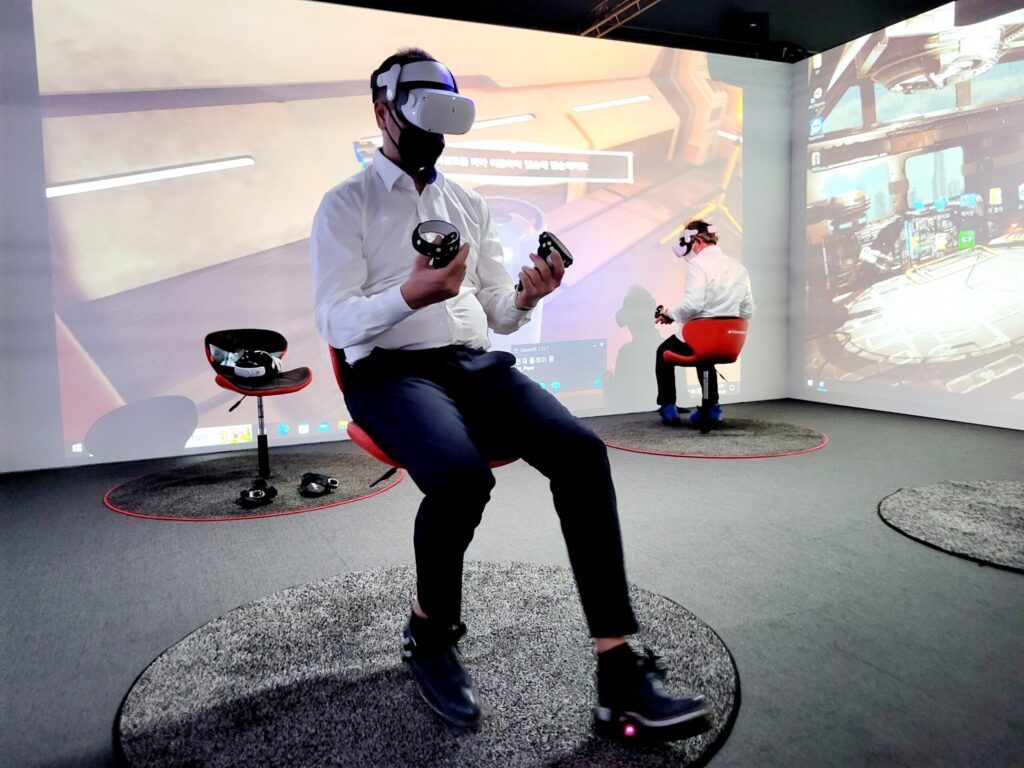 Steam VR Games
If you have a Windows 10 gaming PC, you can enjoy our full program of 80+ games. Works with a wired PC VR headset and the Quest using Virtual Desktop on Air Link.
Meta Quest Games
While there are already 70+ SteamVR games compatible with Cybershoes – the list of Quest Standalone Games is limited including titles like Arizona Sunshine, Saint and Sinners, or VR Chat.
We recommend downloading the Cybershoes Tutorial App to set up your shoes and learn more about Quest games.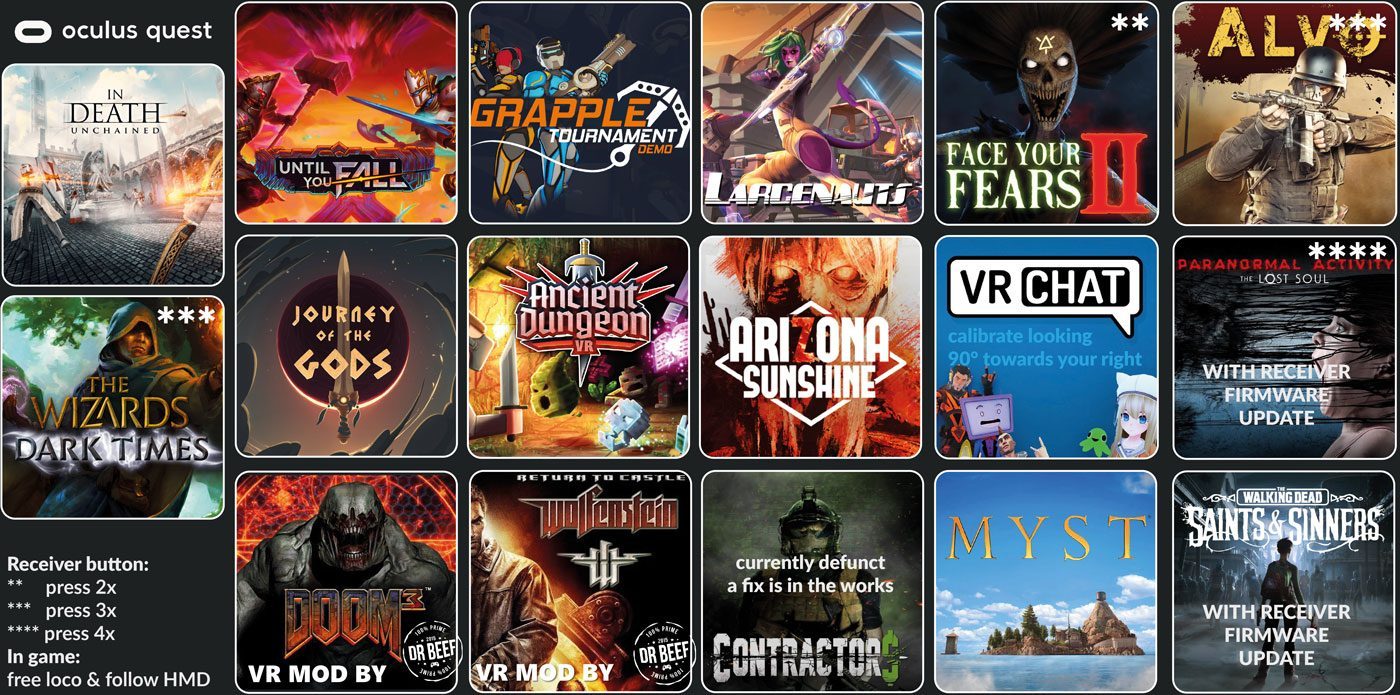 Shoes Dimension: a x b x c in
Connection to: PC Radio Frequency
Connection to Quest: Bluetooth
Batteries: 2 lithium-ion batteries are required. (included)
Charging: 3 hours
Playtime: 9 hours
Region: CE certification (EU), FCC certification
Item Weight: 14 kg
Package Dimensions: 20 x 24 x 12 inch (49 x 59 x 29 cm)
Shipping EU: GLS
Shipping USA: UPS
Shipping Worldwide: UPS
Shipping UK: only available via Amazon
Warranty: Two Years Limited Warranty